Flying AA's A333 On A Domestic Flight
|
Intro:
I attended the wedding of one of my college roommates this past Friday.  Him and his new wife live in Orlando and they decided to host their wedding and reception at the Orlando Science Center.  The event was very well planned and the festivities started on the night before the wedding as we gathered for drinks and food at Brass Taps in Orlando, which is an indoor/outdoor type of venue.  The newlyweds organized everything via theknot.com so the information was accessible at all times.
Flights:
GSO-CLT CRJ-900 First
CLT-MCO A321 First
MCO-CLT A333 Economy
CLT-GSO ERJ-175 Economy
Details:
Outbound GSO:
I started my morning very early at 3:30AM as my flight was scheduled to depart at 5:30.  I prepared my carry-on and my suit, which I packed in a garment bag the night before, so I was ready to go in the morning.  I was at the airport about an hour and 15 minutes before hand, I was already checked in via AA.com and the security line wait was approximately 10 minutes, since we were the 3rd flight out that morning from GSO.  The club was not open yet since it was so early in the morning, it was also right beside the gate.  The gate agent was very quick and professional, common theme across all of my flights.  The flight was very smooth and took all of 20 minutes to get to Charlotte.  Side Note:  The gate agent was welcoming everyone by their last name, but I don't think he wanted to attempt mine, so he just said welcome and thank you, Ha!
Connection and Outbound CLT:
I transferred from Concourse E to C, but stopped on the way for some breakfast at 1897 Market.  I enjoyed the omelette and home fries and striked up a conversation with a lady that was going to a trade show, she was studying for her GMAT, as well.  She noted that she plans to take over her father's trade show display company one day, and wanted some additional business skills and knowledge. Her undergrad was in education.
We boarded on time, I ordered a Coca-Cola after we took off, but proceeded to fall asleep and woke up when wheel hit the runway in Orlando.  The Coca-Cola was magically gone, I don't think I even took a sip!  We proceeded to taxi for what seemed an eternity, is that normal at MCO? Off I went to the car rental agency, and I was on my way(more on that in a later article).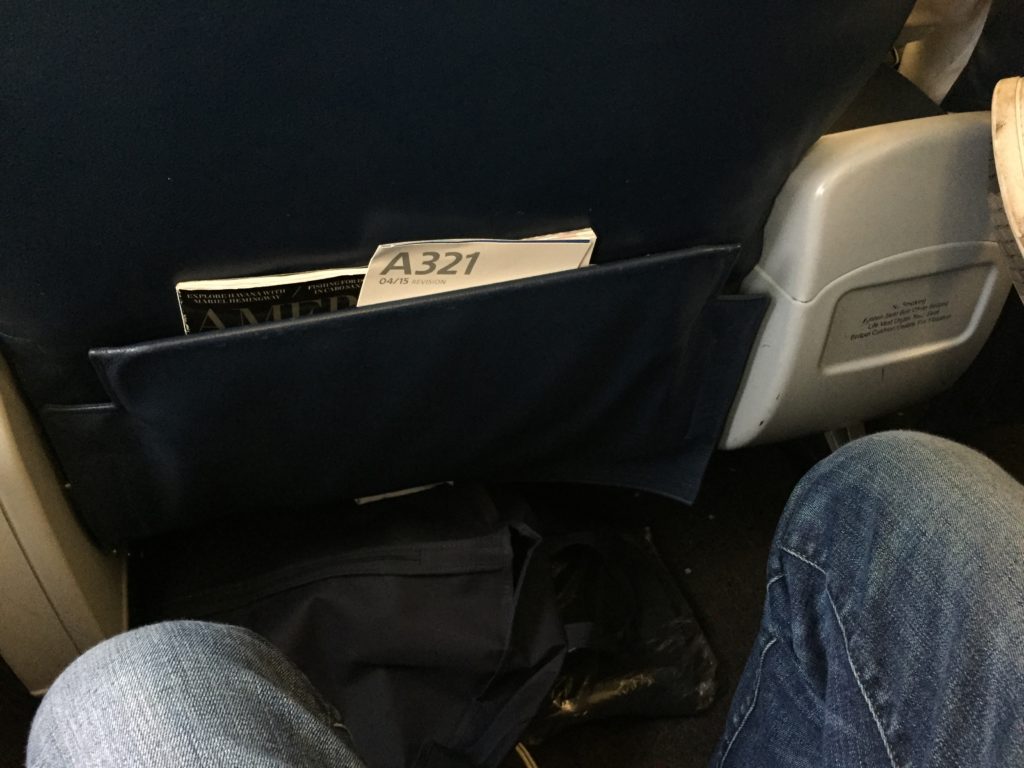 Hotel:
I booked my hotel via Hotwire.com Hot Deals and ended up being situated in downtown at the Crowne Plaza.  Total cost was around $120 a night, additionally I paid $17 a day to park at the hotel.  The room was pretty pleasant for the price, the front desk was exceptionally courtesy and fun to interact with.  It was a comfortable stay, but the Hotel is showing it's age and needs to be updated at some point soon.  It's getting that musty type of vibe.  The location was convenient for me, as it was close to the venue's that were planned for the wedding and the night before, and after.  View from hotel, I-4 construction is seen.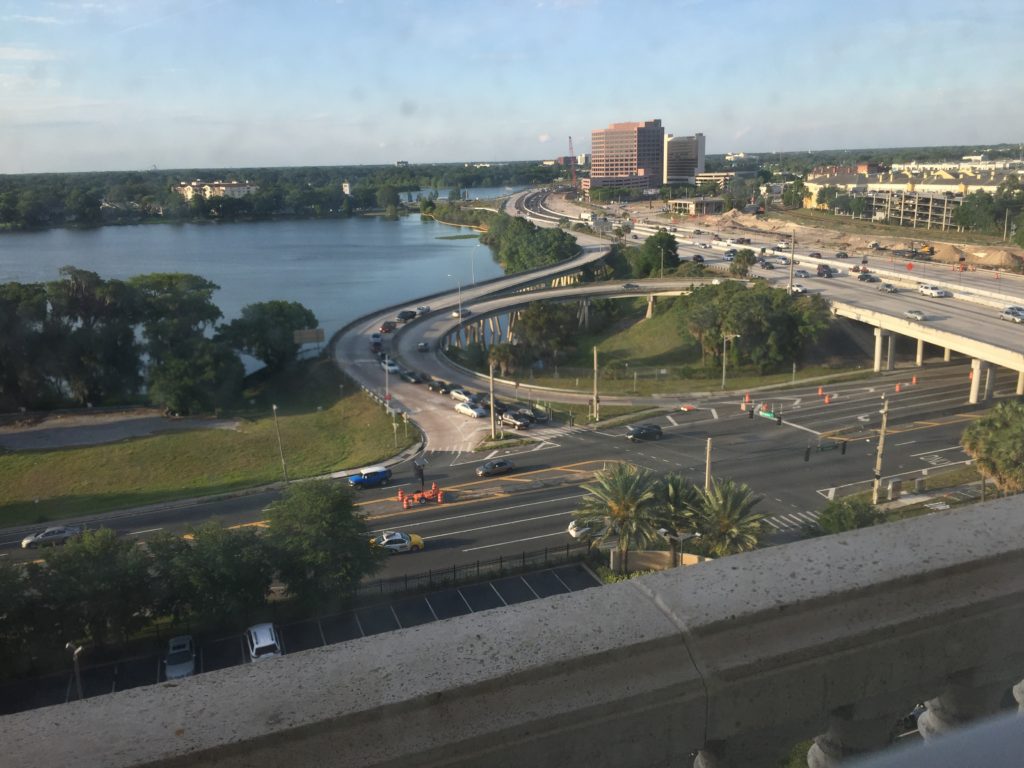 Inbound CLT:
I checked out around 7:30AM and left the hotel to head to MCO.  I was approximately a 25 minute drive from downtown.  I stopped at a gas station to fuel up the beast(more to come on that) before arriving at the airport rental drop off, which was fast and convenient.  It took all of 5 minutes.  Security was pretty busy, but TSA was efficient and I got thru in about 15 minutes total. There wasn't much in terms of breakfast options but I still managed to grab some and headed towards my gate.  This flight was oversold and plenty of people were on standby.  It was fun and interesting to take an hour and 10 minute flight on a A333.  I had a good location in the airplane, an aisle seat and a pleasant neighbor, who I chatted with throughout the flight.  The only downside was the gentlemen sitting behind me, kept falling asleep and sliding down his seat, proceeding to hit the back of my seat, approximately 1,750 times.  I gave him a friendly reminder to please stop.  I had enough.  Service was efficient, fast and friendly.  It was service with a smile.  This A333 has not received the updated IFE and it showed.  The touchscreen was very slow and almost non responsive.  We landed on time and it was off to the races as my next flight would be boarding in 25 minutes time.  Luckily, I was only going from B to C concourse.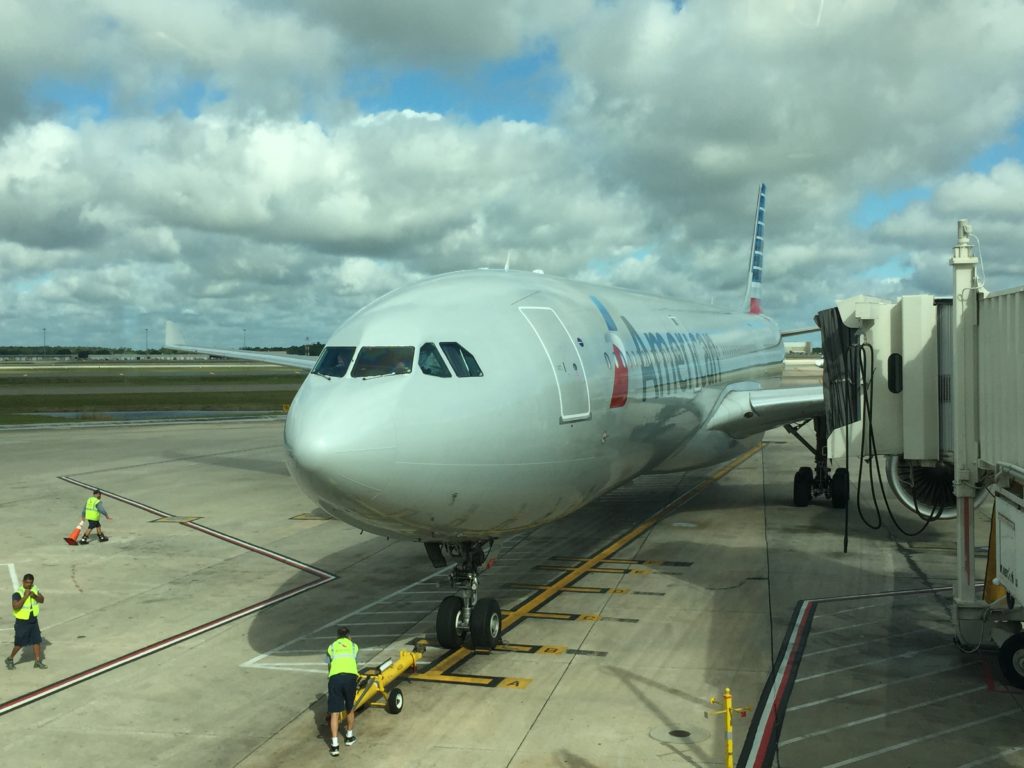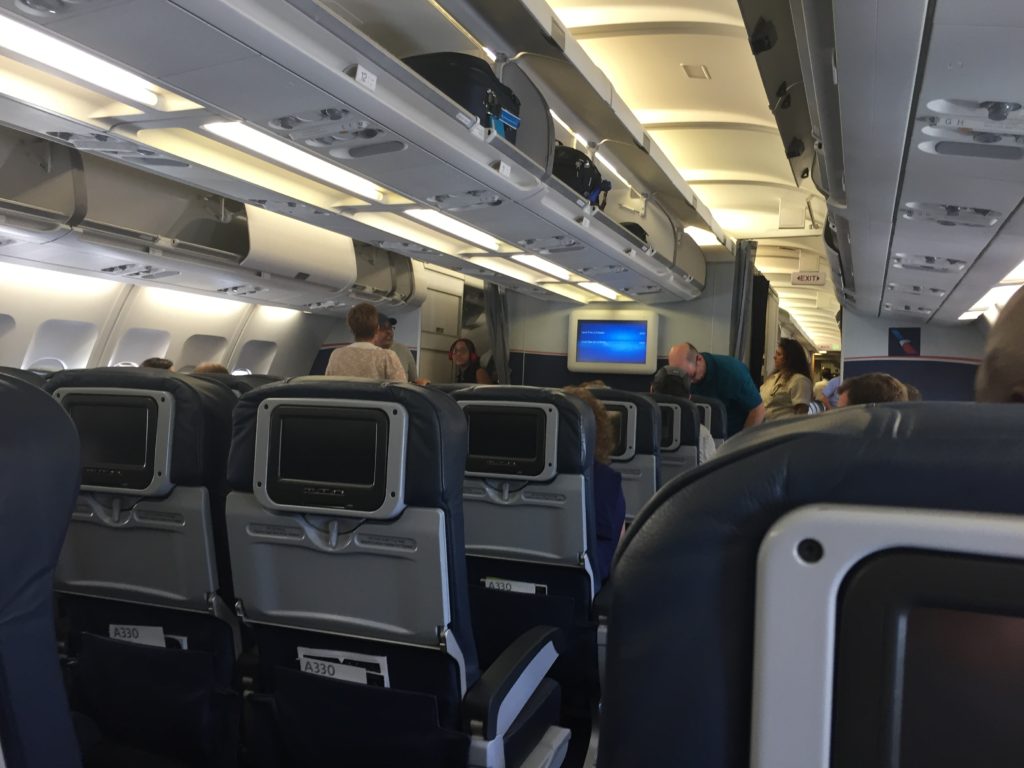 Inbound GSO:
I approached the service desk to get my boarding pass printed, it would not download for some reason, the rest of my boarded passes were downloaded to my wallet on my iPhone.  I was planning to carry-on my suitcase and luggage as it was the 175, but I figured I would double check with the gate agent.  He insisted that it would probably not fit and that it gets checked.  I was a bit upset to find out later that it would have most certainly have fit in the bins and that even larger carry-on's that mine were fitting.  Oh well, lesson learned.  Short hop to Greensboro took all of 25 minutes and the ride on the 175 was bumpy along the way, but still airy and comfortable, my preference over the CRJ.
I deplaned and went down to the luggage area to find out that I left my suit on the airplane.  I hurried over to the AA help desk and the lady radioed the ground crew with the details.  10 minutes later, my suit was saved!  I walked out into beautiful NC weather and drove home to eat and rest.